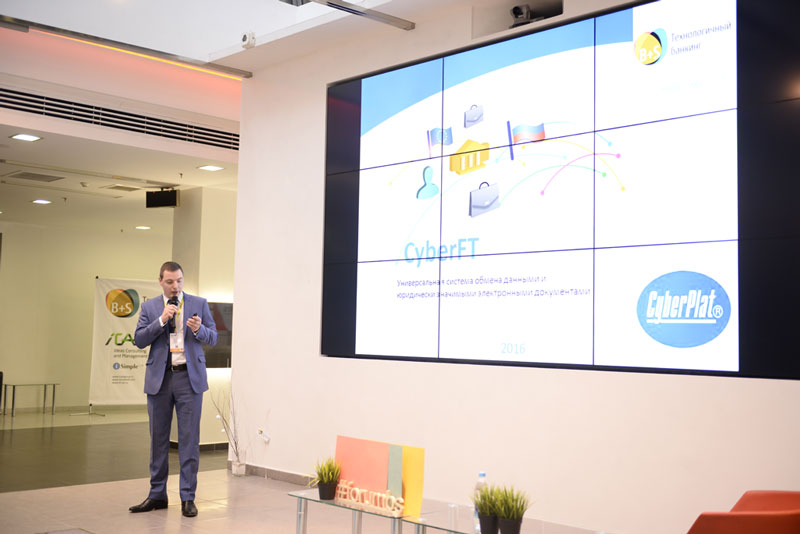 CyberPlat has presented its CyberFT platform at the second forum "B+S: High-Tech Banking" that took place in Kazan as part of the "Banking business efficiency" session.
Amid the dire economic situation, Russian financial experts are actively seeking new solutions to increase business efficiency, and opportunities provided by CyberFT seem to meet all requirements of the businessmen – a fact that was confirmed during the forum.
Our report "CyberFT – increasing business efficiency" that was presented by the Head of Project Development, Kirill Solkan, caused a lively discussion among IT experts and bankers alike.
It was the first time that CyberPlat talked about the CyberFT platform in Kazan, so the main emphasis of the presentation was placed on key advantages of the product: fail-safety, security, universality, scalability, and flexibility. As the busy discussion went, participants have thoroughly analyzed opportunities offered by CyberFT and agreed on relevance of the use of the universal system for exchange of financial data and legally-valid electronic documents.
Research of CyberPlat experts shows that, considering priority given to the use of the innovative solutions over everything else during developing business in Tatarstan, a lot of companies and banks are likely to become key partners of CyberPlat during implementation of the CyberFT platform not only within, but also outside of the republic.